Rick Wood, Presidente
Rick Wood is a business leader with deep roots in agriculture, rural telecom and electric cooperatives in the southeast. He is a lifelong resident of Habersham County in the foothills of Northeast Georgia, where he currently lives with his wife of 42 years. Active in his church and community, Rick has served on various public service boards including the Department of Family and Children's Services and the Habersham County Chamber and the Small Business Access Partners Board of Directors.
After graduating high school, he took over his father's custom home and commercial construction business, which he successfully ran until other opportunities arose in 2001. At the same time, he began investing in the development of the car wash industry, which later evolved into Snappy Premium Express Wash, a computer-driven, brushless system that rapidly expanded across the southeast to become a $30 million dollar asset company.
Rick is equally as passionate about farming. His family farms over 275 acres and specializes in extensive Embryo transfers to produce the best seed stock, resulting in cattle with high all-purpose index EPD's from his purebred Simmentals. The family also operated poultry houses, until June 2019, producing approximately 240,000 broilers a year.
For 30 years, Rick has and continues to serve as Director on the Habersham Electric Membership Corporation Board. During this tenure, he helped lead the formation of Georgia Energy Cooperative (GEC) along with 13 other electric cooperatives when Oglethorpe Power restructured in the late 1990's, ultimately divesting into the family of companies.
A progressive leader within the electric coop community, Rick is an early adopter of leveraging leading edge technologies such as introducing fiber optic broadband networks as a tool for economic growth and development within rural communities, school systems and medical facilities in the region.
Focused on building the regional economy, Rick provided oversight to the development of the North Georgia Network (NGN), a state-of-the-art, low-latency, digital optical network, for technology‐reliant businesses and organizations with access to speeds as fast as those in the largest, busiest cities in the world.
Rick currently serves as Board Chairman of the North Georgia Network where he helped facilitate Georgia's first gigabit to the home internet connection and the development of the state's first Education Exchange. The Education Exchange is Georgia's only regional 10-gigabit private cloud for exclusive use by school systems. Schools participating in the Exchange govern their content, activity and access to this cloud, empowering them to create an education experience without boundaries.
Rick has extensive experience with securing funding through the SBA, RUS, US Department of Commerce and private lending institutions including Co-Bank. He is a hard-working, self-made businessman who strives to better the communities through his leadership in economic growth and development.
John Borrow, Vice Presidente
John Borrow is a businessman who owns seven McDonald's restaurants in North Georgia. A longtime business partner of Wood, he has contacts throughout the poultry industry and several family members who work in the industry.
John has deep connections in North Georgia and currently serves as Mayor of Cornelia. As co-owner of Global Poultry Source, he puts his business acumen to work in focusing the company on providing highest quality products, unmatched service and value to our customers. His personal mission is to work with small poultry companies that often times don't get the attention they need from larger suppliers.
Maria E. Lieberman, Gerente de Oficina y Contabilidad
Office manager, executive administrative assistant to the Global Poultry Source president and vice-president, and assistant to international sales manager and live production manager – that's Maria E. Lieberman. But that's not all. Maria supervises the egg sales manager and administrative assistant. She is also responsible for accounts receivable and accounts payable, payroll and maintenance of the customers and vendors database. And she handles correspondence with Latin American customers, translations, input of product codes, purchase orders and invoicing. Maria, who has more than 15 years of experience in the poultry industry and 40 in office management and administration, is experienced in international shipping requirements and preparation of shipping documents. It's no wonder she is our go-to to keep our office running smoothly. Maria is fluent in English and Spanish.
Maria enjoys spending time with her husband, Henry, and son, Jonathan. Away from work she loves traveling, photography, reading positive spiritual books and watching movies.
Guilliana Rivera, Gerente de Venta de Huevos
Fluent in English and Spanish, our egg sales manager Guilliana Rivera works closely with our customers. Guilliana has more than six years of experience in the egg industry, and handles all egg sales on both the domestic and international sides. In addition to offering our variety of products, she also provides formal quotes, coordinates shipments, and handles invoices, health certificates and any other required shipment documentation.
Guilliana enjoys spending time with her husband, Justin, and children, Liam and Leyla. She loves their trips together, especially to the beach. Guilliana is an avid reader and likes to do arts and crafts.
Jimeno Gutierrez, Gerente de Ventas Internacional
Jimeno Gutierrez is well-known throughout the Latin American egg industry. Serving as our International Sales Executive, he has more than 35 years of sales experience in the region. Jimeno, who has a degree in animal science from the University of Louisiana-Lafayette, has worked in sales and technical support for animal nutrition, feed additive and equipment companies in the region since 1984. His knowledge and expertise in the poultry industry is invaluable to Global Poultry Source and our customers worldwide. Jimeno is fluent in English and Spanish.
Jimeno likes to hike, jog and play soccer. He and his wife, Adriana, have two children, Luis and Mariana.
Hutch Porter, Gerente de Producción
As live operations manager, Hutch Porter's role is key to our company's production of hatching eggs. He brings more than 20 years of pullet and breeder hen management to GPS's breeder operation enabling us to offer highest quality products to our customers.
Hutch raises and manages cattle and working horses in his spare time. He and his wife, Allison, love to travel.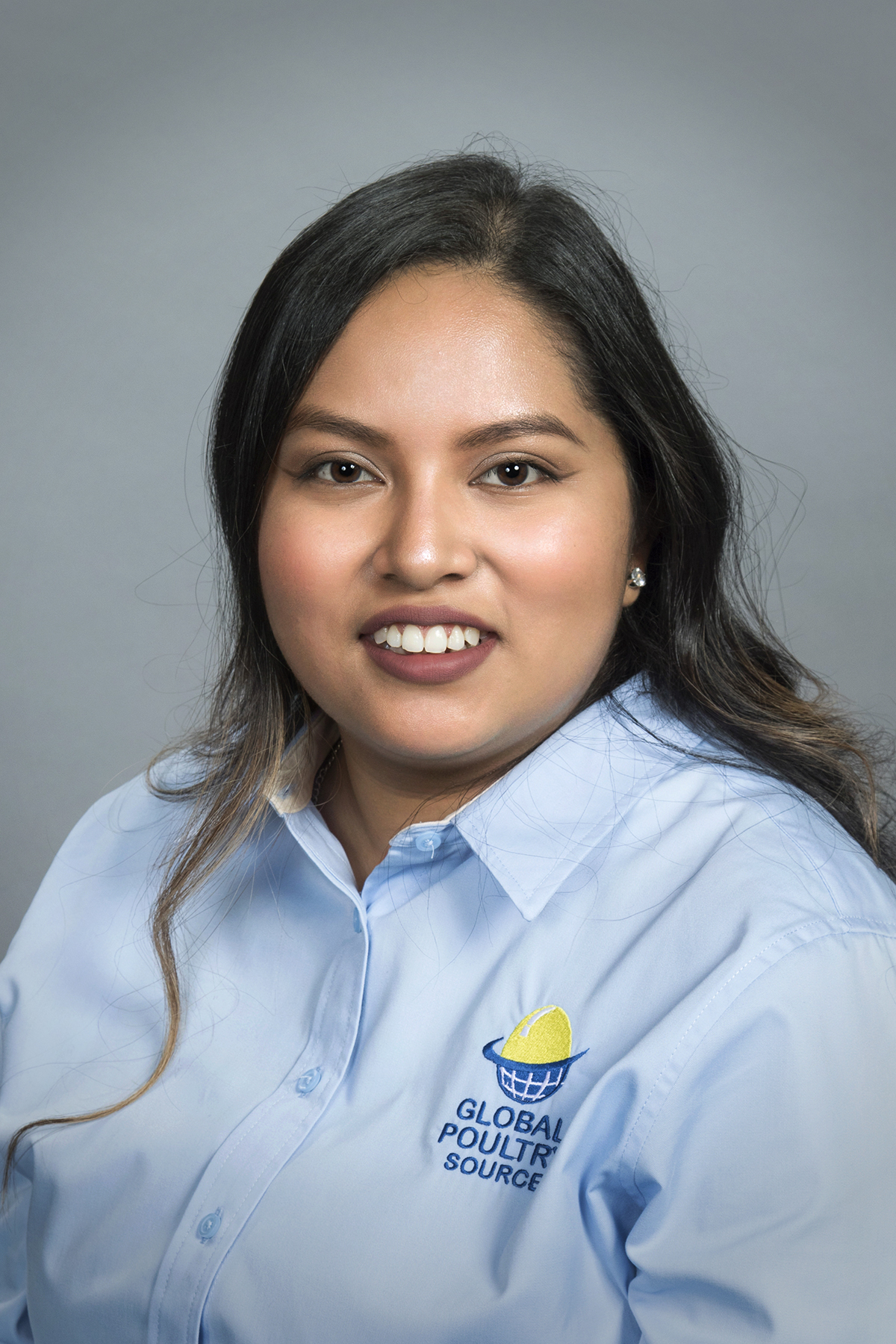 Talia Reyes, Administrative Assistant
Talia Reyes, Administrative Assistant
Administrative assistant Talia Reyes keeps work moving in our office by helping with quotes and invoicing. She has previous experience as administrative assistant with another poultry company and is very knowledgeable about eggs and poultry equipment.
Talia and her husband, David, have one son, Jonah. The family likes watching movies together and Talia enjoys working on her arts and craft projects in her time away from work.